Request a custom quote from us!
Rib 2x1 "Beater" Tank Made in USA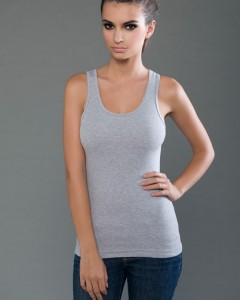 Cotton Spandex 2x1 Rib "Boy Beater" Tank
This boy beater tank has a hint of spandex for a stretch fit. The textured 2x1 rib keeps it looking classic. It is the ultimate staple tank top, great for layering or wearing alone. Designed to fit on average figures.
Made in USA
• Sizes: S-XL, 6.3 oz., Cotton Spandex 2x1 Rib (Made of 30 single 97% ring-spun combed cotton and 3% spandex for luxuriously soft comfort and a stretch fit. The touch of spandex gives this fabric a higher recovery rate and will last longer.)
• Cotton spandex jersey fabric binding at neck and armholes
• Sizes: S-XL, 6.3 oz., Cotton Spandex 2x1 Rib (Made of 30 single 97% ring-spun combed cotton and 3% spandex for luxuriously soft comfort and a stretch fit. The touch of spandex gives this fabric a higher recovery rate and will last longer.)
• Cotton spandex jersey fabric binding at neck and armholes



$15.00
« Return to